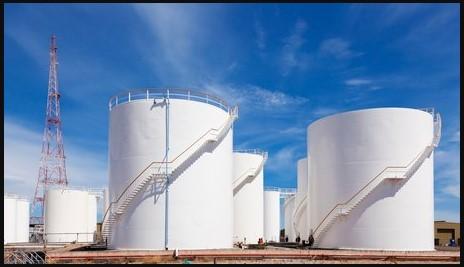 API 653 covers Tank Inspection, Repair, Alteration, and Reconstruction. This inspection method promotes safe storage and material handling of petroleum products in a manner that protects employees, the public, and the environment. It was developed with the participation of storage tank owner/users, and establishes a uniform national program that will assist companies as well as state and local governments in aboveground storage tank regulations.
Our API 653 inspectors are willing to carry-out all necessary inspections and evaluations for above ground storage tanks inclusive and not limited to the following :
Developing an inspection plan in coordination with client corrosion specialists.

Evaluation of tank roof, shell, bottom plate , and annular ring plates.

Determination of controlling thickness for each shell plate utilizing standard formula.

Determination of the minimum acceptable shell plate thickness for continued service and also determination of hydrostatic test height.

Determination of minimum remaining thickness/minimum acceptable bottom thickness for the entire bottom or portions.

Determination of annular ring plate minimum thickness.

Conducting external & internal inspection of tanks as per API 653 & client company procedure if any, to whichever is more stringent. 

Establishing of initial and subsequent inspection intervals and frequencies. 

Make the appropriate repair or mitigative recommendations on the basis of API 650 equivalence. Authorization of any repairs and designating the inspection hold points for the repair activity.

Approval of all proposed design, work execution, material, welding procedures, examinations & testing methods for the specified repair or alteration.

Follow-up all repair & alteration activities.

Evaluation of tank bottom settlement.