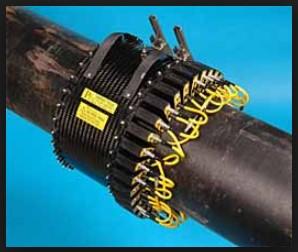 Long Range Guided Wave Ultrasonic Testing is a cost effective powerful screening tool for inspection of long lengths of pipe from single Inspection location. The screening identifies the areas of corrosion or erosion that may further be subjected to more detailed inspections using other NDT Techniques.
LRUT can be performed on pipes that are in-service, insulated and buried and in hard to access areas such as pipelines at high elevations. By utilizing the LRUT, resources and time required on excavation, insulation removal and scaffolding for conventional testing can be avoided.
Low Frequency guided wave ultrasound transmitted and received by the ring of transducers which travels long distances, even in insulated, buried pipe from single location. By focusing the ultrasound energy at small region of pipe for detailed localized inspection.
LRUT works most effectively in straight sections of pipe. As the ultrasonic signal will be attenuated or totally absorbed by elbows, flanges, tees, welded supports, socket welds and other obstacles.
For the benefit of 100% coverage of the pipe, additional inspection locations are required before and after every disruptive feature.
The benefits of Long Range Ultrasonic Testing include:
Long Length Screening of the pipe with 100 % coverage.

Capable on pipe in-service up to 125°C.

Sensitivity can be good as 3% loss of cross-section in ideal conditions.

Cost effective technique for the inspection of insulated, buried, sleeved, or elevated pipes.

Inspection of on and offshore pipelines in tightly packed racks.
In relative to the further detailed inspection of the defects found by long range ultrasonic testing InterTech can provide respective non-destructive inspections.